About
The Lea Sandford School of Dancing offers classes to boys and girls from age 3 years in Royal Academy of Dance – Ballet and British Theatre Dance Association – Lyrical dance. Our students have the opportunity to take part during the year in examinations, competitions and concerts. We have a family orientated community in our dance school which encourages our students and celebrates their successes.
Every year in December, the Lea Sandford School of Dancing produces their Christmas Concert in the Whangaparaoa College Auditorium. Last year the programme was comprised of thirty dances, involving sixty-eight girls aged between three and twenty years old and one young lad. The choreography, music and costumes were of their usual high standard, and it was enjoyed by a capacity audience. At the conclusion of this concert, as is tradition, Lea presented a number of ballet certificates to her pupils, for passing their Royal Academy of Dance grade and vocational examinations.
This year Sophia McDonald and Jasmine Collett are using the knowledge they have gained over the past two years in contemporary dance, to offer Saturday morning classes in this genre.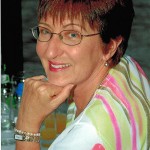 Lea is a Life Member and registered teacher with the Royal Academy of Dance and also a registered teacher with the British Theatre Dance Association. Lea has been operating in Red Beach for the past sixteen years. Her Dance School offers classes in ballet, Contemporary and lyrical dance. The students also have the opportunity of learning solo dances for competitions. She has proved to be a very experienced, caring and knowledgeable teacher and some of Lea's students are now registered teachers themselves.
Lea started teaching at the age of fifteen. In her first year of teaching her students were successful in their Royal Academy of Dance examinations. Her teacher, Mrs. Tess Graham, who was the principal of the Northland School of Ballet, then asked her to teach for her. This caused Lea some anxiety when she discovered some of the students were older than her. However, these students were many years behind Lea's standard, and therefore able to benefit from her knowledge.
Nowadays, Lea offers examinations in ballet and lyrical dancing, medal test competitions and concerts, performing for family and friends. During the year her students perform at local retirement villages and the Hibiscus Hospice.